Corvatsch Rookie Fest: Italia e Svizzera conquistano i gradini più alti del podio

L'Engadina, il Corvatsch Snowpark e 50 rider da 8 nazioni, non mancava niente per una rassegna di performance spettacolari. Difatti siamo fieri di dirlo, per il terzo anno consecutivo la tappa svizzera del Corvatsch Rookie Fest è stata un successo.
I rider si sono messi alla prova su un set up composto da un downbox e un downrail sul primo table, due kicker (8 e 15 m) sul secondo table, un kicker da 16 mt da poter usare anche in sideway e un downrail e down tube nell'ultima area rail.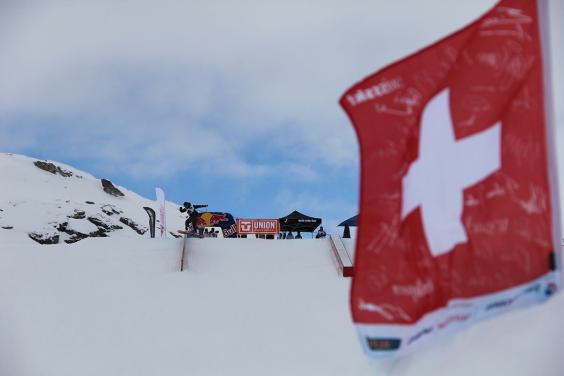 Nella categoria rookie boy prima nazione sul podio la Svizzera con il suo atleta Wendelin Gauger (SUI), secondo e terzo posto se lo aggiudicano Germania e Italia grazie alle ottime run di Philip Schwan (GER) e Marco Kerschhackl (ITA). Anche i più giovani Grom hanno dato il meglio di sé: Alessandro Lotorto (SUI) si piazza sul gradino più alto del podio, seguito dalla quarta nazione vincitrice: la Svezia con Willian Mathisen (SWE), seguito, al terzo posto da Loris Reich (SUI).
Nella competizione femminile porta alta la bandiera italiana Emma Gennero (ITA) nella categoria Rookie aggiudicandosi l'oro, seguita rispettivamente da Mona Danuser (SUI) e da Anine Leenderts (NOR) che porta la Norvegia tra le nazioni vincitrici. Tra le più giovani Grom girl portano a casa podio e secondo posto, rispettivamente, le svizzere Lena Muller (SUI) e Bianca Gisler (SUI) seguite dal bronzo della sesta, ma non ultima, nazione tra i podi di quest'anno, la Gran Bretagna grazie alla giovanissima Mia Brookes (GBR).
Le run vincenti:
1* Rookie Boy – Wendelin Gauger (SUI): switch blunt 270, switch back 9 mellon, backside 7 mute, front 1 in, switch back 3 out
1* Rookie Girl – Emma Gennero (ITA): cab 1 in, backside 3, frontside 3 indy, 50-50 boardslide
1* Grom Boy – Alessandro Lotorto (SUI): backlip, fontside 7 mellon, backside 7 indy, frontboard 450 out
1* Grom Girl – Lena Muller (SUI): backboard, backside 3 tail, stailfish, 50-50 front 1
Scarica la Rank Finale del Corvatsch Rookie Fest
Le foto del Corvatsch Rookie Fest sono disponibili alla Facebook Fanpage WRT:
Photo Credits: Alberto Della Beffa – Francesca Silvestri Per concludere in bellezza lo Yeti è felice di annunciare il suo ritorno in Engadina anche per l'edizione 2018! Al prossimo anno.
Calendario World Rookie Tour 2017/2018
NZ Rookie Fest. Cardrona, New Zealand. October 05-08, 2017. Halfpipe and Slopestyle DONE World Rookie Rail Jam. Modena, Italy. October 26-28, 2017. Urban Rail Jam DONE Corvatsch Rookie Fest. Corvatsch, Swiss. December 13-17, 2017. Slopestyle DONE Deejay Xmasters World Rookie Fest. Livigno, Italy. January 20-25, 2018. Slopestyle Bulgarian Rookie Fest. Pamporovo-Mechi Cal, Bulgaria. January 26-28, 2018. Halfpipe and Slopestyle USASA Grom Fest. Keystone, USA. February 10, 2018. Slopestyle Valle d'Aosta Rookie Fest. Pila, Italy. February 21-25, 2018. Slopestyle USASA Grom Fest. Breckenridge, USA. February 25, 2018. Halfpipe Indy Park Rookie Fest. Nekoma, Japan. March 03-04, 2018. Slopestyle Oslo Rookie Fest. Oslo, Norway. (to be confirmed) Mammoth Rev Tour Rookie Fest. Mammoth Mountain, California. March 15-16, 2018. Halfpipe and Slopestyle World Rookie Finals. Kitzsteinhorn, Zell am See-Kaprun, Austria. April 10-15, 2018. Halfpipe and Slopestyle
Follow the World Rookie Tour online:
Facebook fan page: www.facebook.com/worldrookietour
Vimeo channel: www.vimeo.com/channels/worldrookietour
mail: info@blackyeti.info                                        
If you dream to become a professional snowboarder, then your future starts from Rookie Fest!
ABOUT THE WORLD ROOKIE TOUR  The World Rookie Tour is organized by the Black Yeti ssrl in collaboration with World Snowboard Federation and its National Snowboard Associations. It consists of a selection of high quality International events, the so called "Rookie Fests", reserved for riders under 18's only, in Europe, North and South America, Oceania and Asia. The World Rookie Tour consists not only of competitions: it also features loads of other activities to help rookies to grow in the field of professional snowboarding, such as photo & video shootings, avalanche and rescue clinics, meetings with photographers and international team managers, parties and English talks. Since year zero it awards tickets to world class events such as The Arctic Challenge, The Air & Style, The World Snowboarding Championships, invitations to professional snowboard photo & video shootings, and freeride trip in Chile. Every year the tour crowns the World Rookie Champion at the end of season, at the World Rookie Finals, a unique event where the best youngsters from almost 30 countries compete and have fun. More information at   www.worldrookietour.com.
Press Office World Rookie Tour
Marco Sampaoli – marco@moonsrl.it – Tel. +39.059.9783397